RT. REV. DR. RENE FEUGA (founder of the college:1941-64)
Bishop Rene Feuga, the First & last European Bishop of the French Foreign Missions of  Paris founded St. Philomena's College in 1946. He was ably helped by his very capable &  far-sighted Vicar General, the Rt. Rev. Msgr. Maurice Queguiner. He generously handed  over all his Valuable property to the college, contenting himself, for his residence, with two  tiny rooms in the Cathedral Compound-the gesture of a big heart & mind. Any visitor to the  central quadrangle of the main building will find there the stump of a strong vine tree. The  seedling was imported from France, planted & watered by the bishop himself.
---
Chevalier C.J. Varkey (1948-51)

He was indeed a colossus among men.
---
Rev. Fr. J.B. Freeman (1951-52)

He endeared himself to both the staff & students because he showed real concern for their welfare. He gladly released funds to provide fans for the staff rooms & badly-needed equipment for the college labs.
---
Rev. Fr. F. Audiau (1952-60)

He was a scholar, an astronomer, a Physicist & a Mathematician.
---
Rev. Fr. N.T. Thomas (1960-66)

He always had a twinkle in his eye, a smile on his face & a charismatic aura about him. He encouraged the students to display their talents, & to speak in their own language. The unity in diversity characteristic of this country was a lived experience under him.
---
Rev. Fr. A. Fleury (1966-71)

He was the first old student of the college to become its Principal. Simple, humble, & lovable, he served the college with distinction.
---
Rev. Fr. Frank D'Souza (1971-77)

He served as a Principal with sincerity leaving the college upon attaining Superannuation.
---
Rev. Fr. Thomas Vazhapilly (1977-79)

He was a no-nonsense Principal, a strict disciplinarian, a hard task master, a person who would speak his mind on any issue, with no attempt to hide bitter truths with polished diplomacy. But he was fair & kind.
---
Rev. Fr. Thomas Ezhanikat (1979-80)
---
Rev. Fr. Valerian W.D'Souza (1980-92)

He humanized the college calling himself the "Pincie", writing a weekly chatty letter to the students called "Princie's Platitudes", offering his stray thoughts on men & matters, on events of current interest & snippets from both Indian & foreign newspapers & magazines. He encouraged the students to indulge in dialogue & to avoid confrontation. As we look around the college campus today, we are impressed by the greenery- the tall trees, the grandeur of the surroundings & many more are the parting gifts of Rev. Fr. Valerian W.D'Souza to the college.
---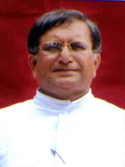 Rev. Fr. Leslie Moras (1992-2015)

Being a great visionary,Fr.Leslie Moras realized his dream of lifting the college to the highest pinnacle of glory as an autonomous college ever since he became the eleventh Principal from 1992 and continued to serve unremittingly for 23years .One cannot but admire his priority of work in building the compound wall to the massive campus with the demarcation of its boundaries stretching to little more than two kilometers. Besides this,he ushered in marvelous infrastructure and construction of several buildings,the huge ladies hostel with four floors ,the imposing independent Postgraduate Studies and Research Center with 13 departments,the library block with three floors, not to say the incredible and majestic indoor stadium with all the modern amenities. Gifted with green fingers,he planted plenty of trees ,plants and flowers to provide a salubrious ambience to the campus .His greatest achievement is in forming and reforming a society of multicultural staff and students of different genders and nationalities living in peace and bonhomie in the gorgeous campus with its Latin motto 'Caritas in Scientia ' (Love Through Knowledge).
---
Mr. Krishnegowda (2015-17)

---